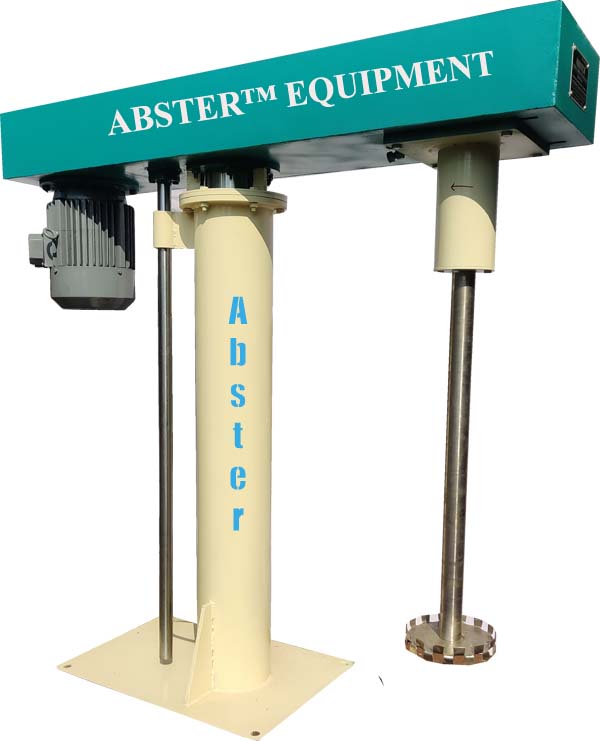 Hydraulic High Speed Disperser
Optimum Process Selection of Mixer for Motor Power at given Tip Speed
Solid shafts for strength and ease of handling for HSD
Excellent Shaft machining in order to Control the Shaft run-outs, vibration and noise
Use of external bearing housing with back to back Tapper Roller bearing
Rugged and Robust mounting structure for strength and durability
Hydraulic Lifting System for HSD is Optionally available
Epoxy Paint finish as Standard
Product Information of Hydraulic Lifting High Speed Disperser
With a focus on product quality, Abster strives for quality excellence in the production of disperser.Good materials, advanced production technology, and fine manufacturing techniques are used in the production of disperser. It is of fine workmanship and good quality and is well sold in the domestic market.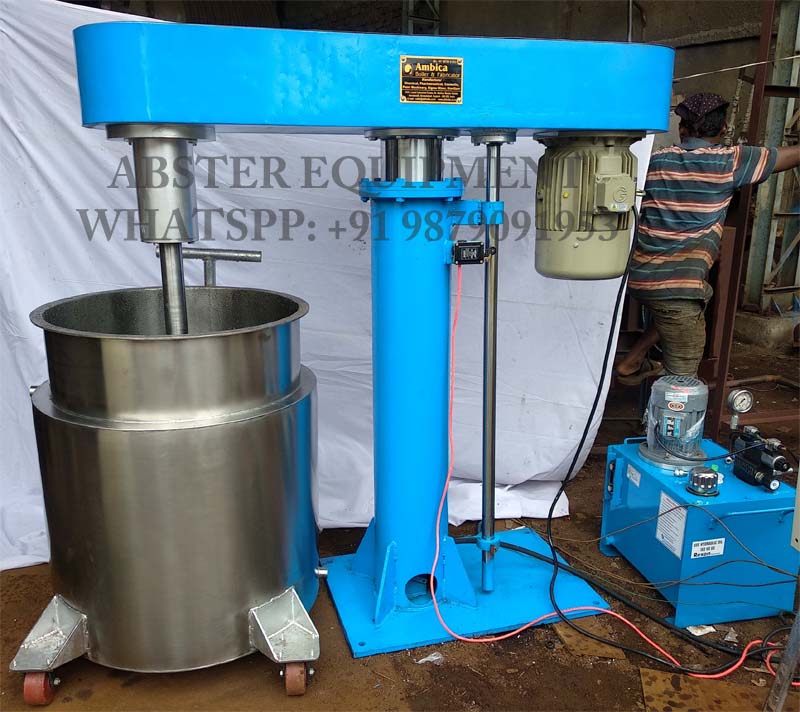 Company Advantages1.
Abster Machinery chemical machine has a rather appealing appearance due to the efforts of our own professional and innovative designers. Its design is reliable and time-tested enough to meet the challenges of the market.
2.
This product is in high demands among the customers across the country.
3.
The product is durable, functional, and practical.
4.
Being specialized in the serving customers is a positive point for the development of Abster Machinery.
5.
For Abster., the only way to win customers in chemical machine market is to improve the sense of customer service.
*Description:
1. Introduction

- For paint, coating, pigment, inks.
- Combine milling and dispersing function.

- Energy saving
- High efficiency, easy operation, maintenance, cleanng and changing color.
- Applicable for independent tank operation and high/ low viscosity paste.
2. Main Features
- Configure with qualified Inverter, various speed control
- Hydraulic lifting, can be moved around
- Integrate dispersing and grinding in one process
3. Function selection
- Imported or domestic top brand inverter for option
- Custom-made design is available, such as Ex-proof, vacuum, sealed operation;
- Belt or not clamping for optional.

*Product Application
The double shaft disperser is applied to the dissolution, mixing and dispersion of material in many industries such as painting, dyestuff, pigment, medical, paper, and other industries. Especially widely used in latex paint industry.

1, The construction industry: interior and exterior wall coating, cold porcelain paint, colorful paint, anti-corrosion, waterproof coating, flame retardant coating
2, stationery industry: ink, ink, pencil core, advertising color, oil painting
3, chemical industry: pigment, lubricating oil, spices, dyes, emulsified asphalt, emulsified rubber, catalyst, paint coating
4, the pharmaceutical industry: biological products, vaccines, creams, a variety of oral liquid
5, daily chemical industry: toothpaste, shoe polish, jacket oil, cosmetics.

The series of equipment are applied to the dissolution, mixing and dispersion of materials in many industries such as painting dyestuff, pigment, medical, papermaking and other industries. The equipment is characterized by minimum include air during mixing and dispersion, perfect solid-liquid mixing and dispersion effect, and fast dissolution and fine particles during high-and medium-speed dispersion process.
*Speed requriement
A) Speed type: Single, double, stepless, step(multi)
B) Single speed: Magnetic, frequency cobversion, reducer, shift belt.
C) Speed range: Low speed below 400rpm, high speed below 400-1200rpm, opecial speed over 1200rpm.
Dispersing disc type: Falt disc sawtooth, trident, butterfly, other type
Installation type: Floor stand, platform(platform frame)
Tank dismeter and dispersing wheel: 3-4: 1.
Motor and electric: Expiosion proof, common, special requipment.
Type

FL2.2/3/4

FL5.5/7.5/11

FL15/18.5/22

FL30/37/FX37

FL45/FX45

FL90/FX90

Motor power(kw)

2.2/3/4

5.5/7.5/11

15/18.5/22

30/37/37

45

45

Split shaft speed bulk(r/min)

0-1450

0-1450

0-1450

0-1200

0-1200

0-1000

Wheel dia. Of disperser(mm)

200

250

300

350-400

450

600

Rack lift travel(mm)

700

900

1200

1200

1600

1600

Pump power(kw)

0.55

0.55

0.75

0.75

1.1

2.2

Cylinder volume of material(L)

100-200

400-600

600-1000

1000-2000

1000-2500

5000

Weight(kg)

400

800

1500

1700

2100

2600

Dimensions(mm)

A

1700

1750

2200

2600

2700

B

1300

1800

2100

2700

3000

C

600

900

1100

1400

1600

W(with)

540

350

900

1000

1500
Introductions:
   The Horizontal Screw Belt Mixer is a new type, high efficiency mixing equipment, are widely used in food and chemical industry. It with below character:
 1. Horizontal tank body, need small space but more capacity.
2. Dual screw structure-The inner screw push the material form central to sides and the outer screw push the material from sides to the center to make the material effective mixing.
3.Gear box drive the auger shaft , low noise and low malfunction, long using life
4.U-Shape tank bottom, better for material discharge and cleaning
5.Pneumatic cylinder to control the discharge exit. 6. Gas pressure spring help the top cover easy open
7.Control panel simple and easy operate .With timer to set the mixing time
8. High effective (we test before ,it can mix well one batch within 2 minutes)
9.It can be add the sprayer to mixer the liquid material. 0.All structure made by SS 304
 Main Technical Date
Model

BM200

BM300

BM500

BM1000

BM1500

BM2000

Mixed Volume

200L

300L

500 L

1000L

1500L

2000L

Full Volume

280L

420L

690L

1280L

1850L

2400L

Time

0.01S-99H

0.01S-99H

0.01S-99H

0.01S-99H

0.01S-99H

0.01S-99H

Overall size

140*90*1450cm

153*10*155cm

170*120*170cm

200*130*196cm

240*140*205cm

265*152*220cm

Total Power

4kw

5.5kw

7.5kw

11kw

15KW

22kw

Total weight

250kg

350kg

500kg

700kg

1000kg

1000kg

Power

3 Phase 220 / 380V 50-60Hz