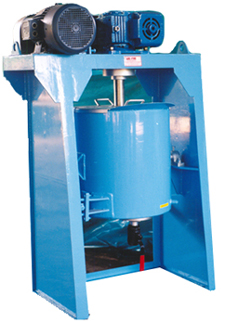 WET MILLING ATTRITOR - BATCH TYPE
production model - wet milling- batch attritors are highly efficient, durable and versatile easy to maintain grinding mills suitable for grinding highly viscous material such as latex, chocolate, nut, paste, paint, tungsten carbide etc.
Attritors can be used to meet the requirements of even the most stringent applications such as the electronic industry. For this application, attritors are available with metal-free teflon/tungsten carbide coating systems to assure a contamination-free environment.
The main advantage of a batch mill is that the material can be inspected any time during the grinding cycle. Therefore, adjustments or formulation additions can be accomplished without stopping the machine.

A recirculation pump will be provided for discharging the end product from grinding chamber. This aids in accelerated and uniform attrition activity. A worm gear assembly attached to the tank allows the tank to be tilted. In this position, the shaft and arms can be easily removed and/or inspected and the grinding media changed, if necessary.
The tank has a ball discharge valve and media discharge chute at the bottom for easy removal of media. A water-cooled cover with a floating teflon seal minimizes solvent loss.
Our Batch- attritors are designated as "S" (Standard). Batch Attritors range in size from a 100 liters gross tank capacity to a 2000 liters gross tank capacity.
Optional

Our Attritors can be used for milling hardest material such as tungsten carbide. These models are equipped with higher horse power. In addition the arms are provided with TC sleeve to reduce wear.
Capacity
Capacity Table - Standard Batch Type Attritor
| | | | | | |
| --- | --- | --- | --- | --- | --- |
| S.NO | Model | T.V(L) | O.V(L) | H.P | MEDIA(KG) |
| 1 | ATTR 5S | 30 | 15 | 3 | 19 |
| 2 | ATTR 10S | 60 | 26 | 5 | 34 |
| 3 | ATTR 15S | 90 | 37 | 7.5-10 | 45 |
| 4 | ATTR 30S | 195 | 85 | 10-20 | 95 |
| 5 | ATTR 50S | 300 | 125 | 15-25 | 140 |
| 6 | ATTR 100S | 585 | 264 | 25-40 | 285 |
| 7 | ATTR 200S | 756 | 529 | 40-75 | 567 |

Use of Attritor
| | | |
| --- | --- | --- |
| Ceramic Powders | Glass frits | Pigment Paste |
| Metal powdersr | Mechanical alloying | Chemicals |
| Metal oxides | Fibers and cellulose | Plastics and rubbers |
| Food products | Ferrite | Graphite |
| Pigments | Organic pigment | Coal and coke |