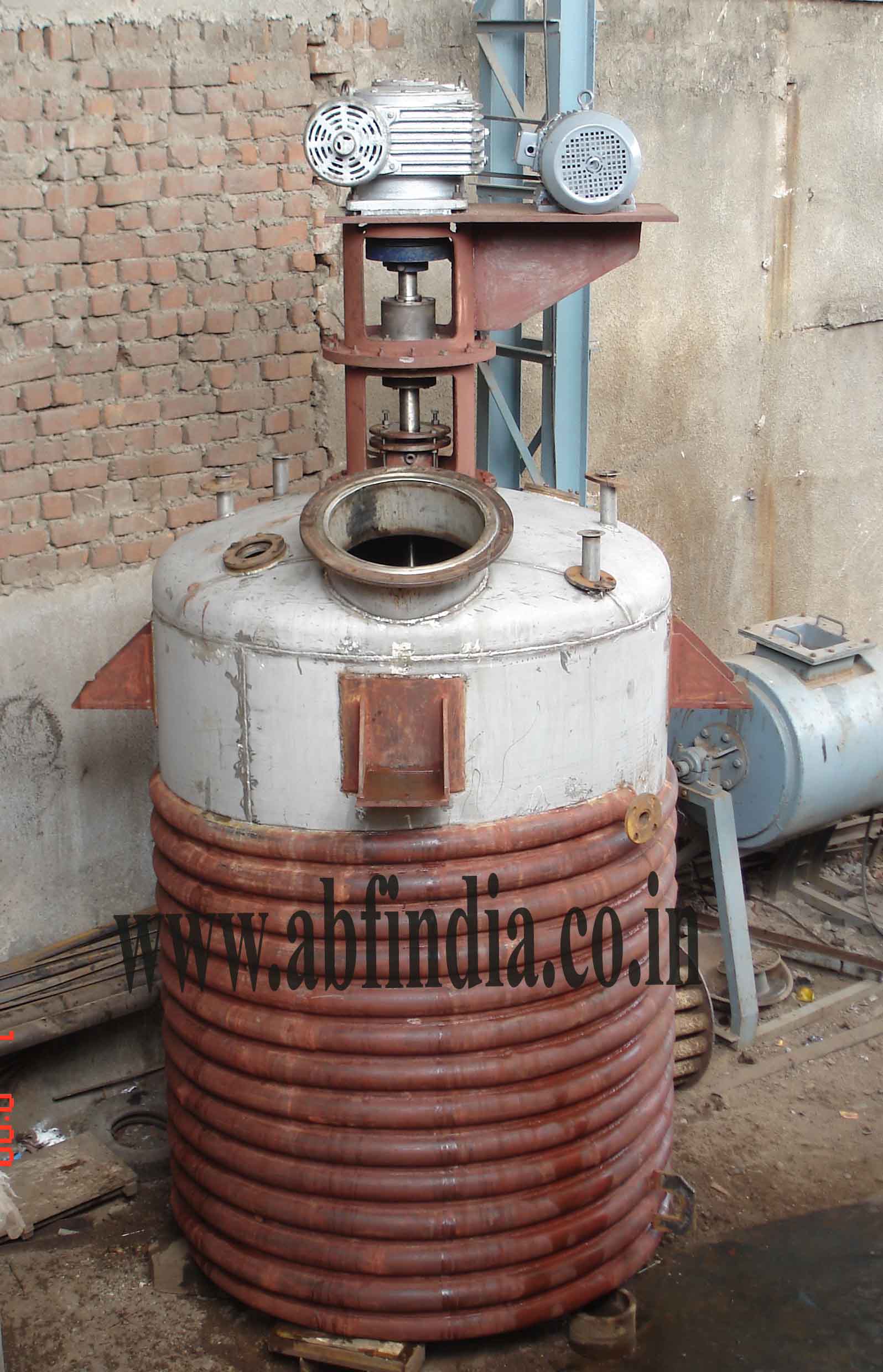 Jacketed Vessel Manufacturer
During Exothermic reaction heat will be released by reactants and during Endothermic reaction heat will be absorbed. In both the processes temperature should be controlled as per process requirements for the perfect result. A jacketed vessel will facilitate the above.
Jacketed reactor has a jacket surrounding the main vessel. During reaction, temperature of reactants is controlled by circulating heating or cooling media through the jacket. Ideally suitable for the heating below 150 Centigrade (302 Fahrenheit). Commonly used heat transfer media include water, steam, hot oil such as Therminol™, and Dowtherm A.
Abster Equiopment is a proven jacketed vessel manufacturer. Jacketed vessel can also be offered in Dimple design .
Benefits of Jacketed Vessel
Available in the range of 500 Liters to 30,000 Liters
Offered in Stainless Steel 316, 304 or Carbon Steel material
Spirals welded on outer surface of the main vessel for uniform circulation of heating or cooling media like steam, oil, water etc. And also provides extra strength to the main vessel
Adheres to ASME and other standards with special attention to Argon and Arc welding procedures
Save Energy using two part Jacket design for smaller batch
GMP range of equipments available for Pharmaceutical industry. With mirror finish from 220 grit to 440 grit, smooth welding, flush grinding and Insulation with mirror finished S.S cladding
Energy efficient direct drive design for the agitator , with VFD option to vary the RPM of the drive
Agitator design to suit the reactants viscosity and density
Vessel design with form cutter for the process which generates forms
Manufactured as per your specifications
What is Chemical Reactor?
A chemical reactor or reaction vessel are vessels design to facilitate chemical reaction among various raw chemicals, known as reactants. Reaction Vessels are also used for other processes such as solids dissolution, product mixing, distillation, crystallization, liquid/liquid extraction and polymerization. Reactors are also identified based on process for which it will be used. (such as blender or crystallizer).
We are a chemical reactor manufacturer for Chemical, Pharm and other industries.
Type of Chemical Reactors
we Manufactur-
As per your process demand we fabricate Jacketed vessel, limpet coil reactor, dimple type reactor, high pressure reactor or autoclave. Our customers are spared across the worlds.
Benefits of using ABSter Chemical Reactors
Wide range of chemical reactors as per your specifications and Requirment
Good quality. number of reactor vessels working successfully
Offered in Stainless Steel ( SS-316, SS-304) as well as Carbon Steel material
ASME and other standards with special attention to Argon and Arc welding procedures
Raw material sourced from Tata, Jindal, Essar, Thyseen-Krupp, Arcelor- Mittal
All reaction vessels can be fabricated as per GMP guide line as per requirment
Different types of agitator and stirrer design
All Chemical Reactors are made to order as per specific need. For the better understanding about features and working of reactor, we have provided schematic diagrams for the reactors in place of images. Actual images of reactors and other equipments can be found in the image section.
suitable chemical reactor –
Jacket and Limpet type of rector will be useful for cooling and heating during exothermic or endothermic reactions.
Jacketed Vessel –
Jacketed vessel has a jacket surrounding the main vessel. Temperature during reaction is controlled by circulating heating or cooling media through the jacket. Ideally suitable for the heating below 150 Centigrade.( 302 Fahrenheit). Available in the range of 500 Liters to 60,000 Liters.
Limpet Coil Reactor –
Limpet coil reactors are used to control the temperature of the reactants with the help of heating or cooling media circulated through coils surrounding the main vessel. Ideally suitable for medium heat transfer requirement and heating application where heating media temperature is above 150 Centigrade (302 Fahrenheit).
We specializes in fabrication of Reaction Vessels with all necessary accessories in both Carbon Steel and Stainless Steel, with capacity ranging from 5 liters to 75,000 liters as per the requirement of customer. Vessel with 'GMP' can also be supplied for Pharmaceutical applications.
The design of the vessels facilitate easy stirring and pouring of the reactants. Robust in construction, the range of our reaction vessels include Limpet Coil Reactor, Jacket Reactor and Reaction Vessels.
Reaction Vessels is one of the most important equipment used in diverse industries like petroleum, refineries, chemical plants, petrochemical plants, natural gas processing, refrigeration, power plants and space heating etc.
ulley for mill.
ply (At Extra Cost ):
ts, and set of air balloons with clamp, V-pulley for Motor and safety guard for drive.
.
Industries
Dyestuff. Pigment & Colour, Chemical. Foodstuff, Spice. Bakery & Confectionery, Agro, Ayurvedic Roots & Hurbs. Pharmaceutical, Dehydrated Fruits & Vegetables, Tea, Cosmetic, Glass, Plastic, Bakelite & Resin, Mineral, Ceramic. Rare Earth Metallic Ore, Coconut Shell, Cattle Feed. Tobacco. Snuff. Woodchips. Coke and Many other...