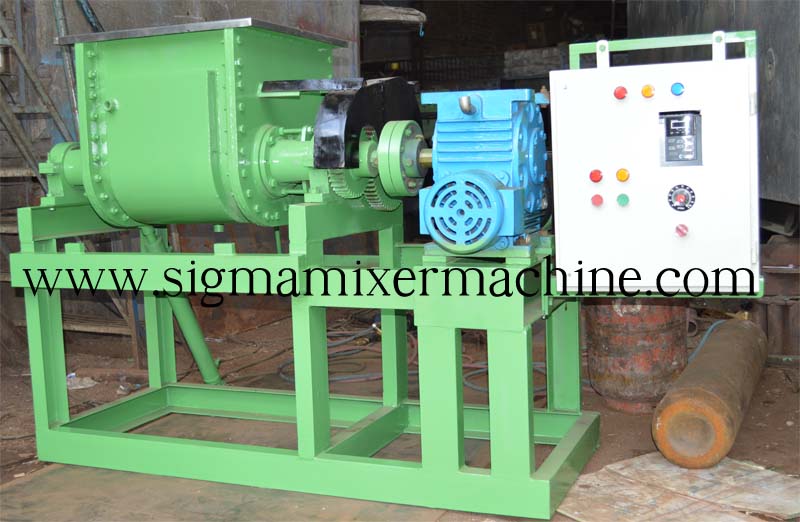 Dough Moulding compound mixer
Sigma Double Arm Z Mixers are excellent for kneading and mixing of highly viscous materials like dough, putty, rubber solutions, adhesives, polymers etc. The mixing action is a combination of smearing, stretching, folding, dividing and recombining as the material is processed between the sigma blades and the container walls. Jacket arrangement is provided for heating or cooling application. In bigger models the container is tilted by a hydraulic cylinder to ensure complete discharge of mass.
The Sigma Double Arm Z Mixers is valued for high durability, superior performance, compact design, sturdy construction and longer service life.
The process of dispersion is carried out by the centrally located shaft having Saw tooth impeller & running at high speed (1000 to 1400 RPM). Reckoned for trouble-free operations, the equipment made available in this range is extensively used for manufacturing plastic emulsions, solvent based Paints and eco-friendly water based paints.
Features :
Optimum Process Selection of Mixer for Motor Power at given Tip Speed

Solid shafts for strength and ease of handling for HSD

Excellent Shaft machining in order to Control the Shaft run-outs, vibration and noise

Use of external bearing housing with back to back Tapper Roller bearing

Rugged and Robust mounting structure for strength and durability

Hydraulic Lifting System for HSD is Optionally available

Epoxy Paint finish as Standard
These machines are available in a wide range and diversity of disperser models drive powers from 10 to 50 HP to fulfil any application involving dispersion of small,medium and larger batches.
| | | | | | | | |
| --- | --- | --- | --- | --- | --- | --- | --- |
| Models | ABFSK 6 | ABFSK 25 | ABFSK 50 | ABFS 125 | ABFSK 250 | ABFSK 350 | ABFSK 500 |
| Vol. Cap in Lts. | 6 | 25 | 50 | 125 | 250 | 350 | 500 |
| Motor H.P. | 1 | 3 | 5 | 10 | 20 | 30 | 40 |
| Hydraulic H.P. | | | | | 1.5 | 1.5 | 1.5 |
| Tilting | Manual | Manual | Manual | Manual | Hydraulic | Hydraulic | Hydraulic |