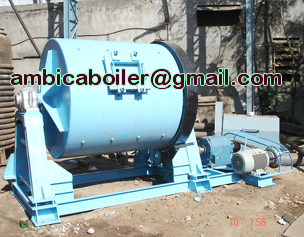 Ball Mill Operating Principle
A Ball Mill grinds material by rotating a cylinder with steel grinding balls, causing the balls to fall back into the cylinder and onto the material to be ground. The rotation is usually between 4 to 20 revolutions per minute, depending upon the diameter of the mill. The larger the diameter, the slower the rotation. If the peripheral speed of the mill is too great, it begins to act like a centrifuge and the balls do not fall back, but stay on the perimeter of the mill.
The point where the mill becomes a centrifuge is called the "Critical Speed", and ball mills usually operate at 65% to 75% of the critical speed.
Ball Mills are generally used to grind material 1/4 inch and finer, down to the particle size of 20 to 75 microns. To achieve a reasonable efficiency with ball mills, they must be operated in a closed system, with oversize material continuously being recirculated back into the mill to be reduced.