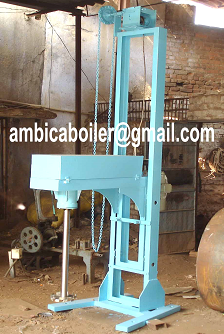 High Speed Dispersers are considered as most versatile equipment for paint production. As the name suggests, the disperser range has been specifically designed to disperse, mix and homogenize products.
The process of dispersion is carried out by the centrally located shaft having Saw tooth impeller & running at high speed (1000 to 1400 RPM). Reckoned for trouble-free operations, the equipment made available in this range is extensively used for manufacturing plastic emulsions, solvent based Paints and eco-friendly water based paints.
Features :
Optimum Process Selection of Mixer for Motor Power at given Tip Speed

Solid shafts for strength and ease of handling for HSD

Excellent Shaft machining in order to Control the Shaft run-outs, vibration and noise

Use of external bearing housing with back to back Tapper Roller bearing

Rugged and Robust mounting structure for strength and durability

Hydraulic Lifting System for HSD is Optionally available

Epoxy Paint finish as Standard
These machines are available in a wide range and diversity of disperser models drive powers from 10 to 50 HP to fulfil any application involving dispersion of small,medium and larger batches.
MODEL

MAIN MOTOR

LIFTING MOTOR

SPEED RANGE

INTER
CHANGEABLE
DISC

WEIGHT

SHELL TOTAL
CAPACITY

ABFHSD 7.5

7.5

1

800-1500

150-200

600

250

ABFHSD 10

10

1

800-1500

150-200

600

250

ABFHSD 15

15

1

800-1500

15s0-200

625

375

ABFHSD 25

25

2

535-1500

250-285

1000

700

ABFHSD 30

30

2

535-1500

250-285

1100

800

ABFHSD 40

40

2

370-1200

325-390

1500

1000

ABFHSD 50

50

2

370-1200

325-390

1700

1250
High speed paint dispersing mixer, High speed disperser/dissolver,High Quality high speed disperser,high speed disperser, high speed disperser, high speed mixers suppliers, industrial mixers, mixing equipment, industrial mixing equipment, high speed dispersers